With Flyability's indoor drones we are expanding our range of visual inspection systems. Indoor drones enable the inspection of areas that would otherwise be very difficult to access without the need of a complex setup and costly downtimes. Our VT inspectors have pilot licenses and are trained to perform inspections with our indoor and outdoor drones.
Advantages of indoor drones
Indoor inspections with the ELIOS I
At a speed of three to nine meters per second and a climbing/descending rate of 1.5 to 2.5 m/s, the ELIOS I allows you to quickly check areas that are difficult to access, such as high tanks, silos, chimneys or large pipes. The special construction of camera and cage makes it possible for the ELIOS I to roll through pipelines that are only slightly bigger than the indoor drone itself.
The ELIOS I is a quadrocopter with a robust carbon fibre collision protection cage, which can be manoeuvred through manholes and openings with a diameter of over 400mm. The ELIOS I is equipped with a FullHD capable main camera and a FLIR thermal imaging camera.
The ELIOS II – The new Pioneer in the field of indoor inspections
As the successor to ELIS I, ELIOS II is even more powerful. It too is housed in a carbon fibre cage that protects it from collisions. However, the new construction method now allows images to be taken without the bars of the cage in the image. Thanks to the GPS-free stabilization with distance assistant, the drone now flies even more smoothly and is even easier to control. The ELIOS II flies stable, even if you do not give any control impulses!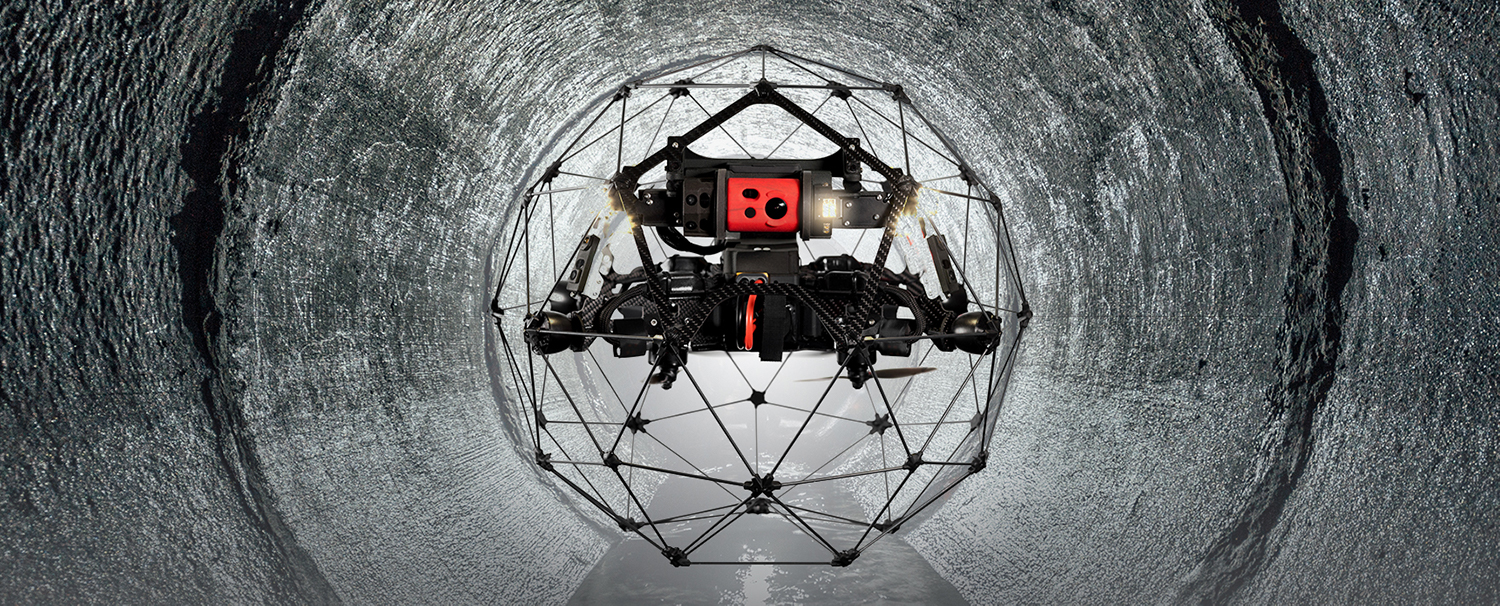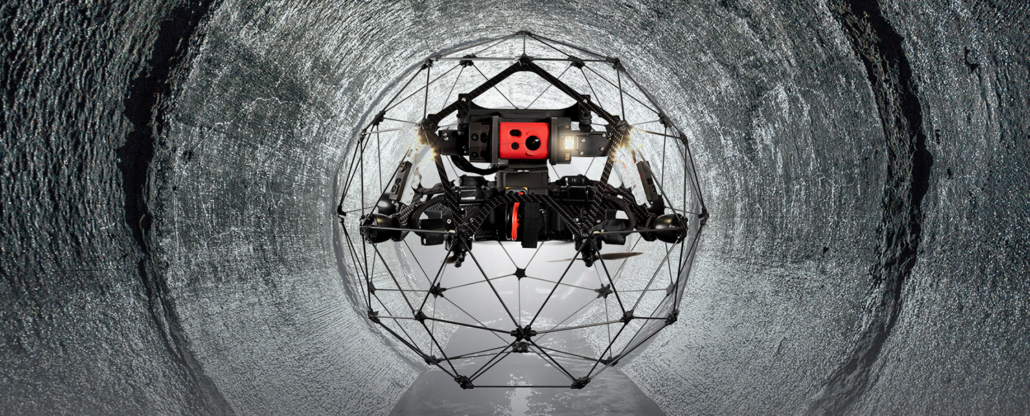 1
Fly through openings and tubes with a diameter over 400 mm
2
Robust carbon fibre cage: collision-resistant, shock-resistant mounted components
3
Fly intuitively with GPS-free stabilisation and distance assistant
4
Dual camera system for simultaneous HD/4K and thermal imaging
5
Special illumination technology: adjustable lights with 10 K lumen for dust-free vision, special oblique light technology for the detection of gaps and cracks
6
Intelligent data processing through state-of-the-art data management, 2D measurements and optional creation of 3D models
7
Various flight modes, max. speed 6.5 m/s, max. climb rate 1.5 m/s, max. sink rate 1 m/s
The ELIOS II comes with a new, improved recording technology. The main camera has a light-sensitive CMOS sensor with 12.3 effective megapixels. With this high-quality indoor drone you are able to record 4K Ultra HD videos with a resolution of 3840 x 2160 at 30 fps.
Even video streaming allows FHD videos with a resolution of 1920 x 1080 at 30 fps. The total vertical field of the ELIOS II, including camera tilt, is 260°. Not to forget the on-board thermal imaging camera, which also allows IR recordings to be documented with a resolution of 160 x 120 pixels at 9 fps.
Thanks to the simultaneous recording of flight telemetry data documentation can now be evaluated and stored even more efficiently. All data sets are stored on an inserted Micro SD card, but can also be retrieved from your PC via USB connection.
Our indoor drone comes with very special features.The simultaneous recording of videos and telemetry data makes it possible to create 3D models of your application via third party software. Walk through plants, tanks, buildings and other cavities virtually on your PC.
Do you need help with your remote visual inspection? Or are you perhaps looking for an inspection system, but don't know which one is most suitable for your application? Contact us! Together, we will find the right solution or service for you!
Reach out to us via phone: +49 7432 98375-0 , e-mail: info@vizaar.com or by using our contact form.