The viZaar industrial imaging AG has many years of expertise in the development and production of borescopes and videoscopes for remote visual inspection. Our video endoscope systems have unique functions and features that provide you with the best possible inspection results.
Overview – viZaar Videoscopes
These are the major standard video endoscopes and endoscope systems that are currently in our portfolio. Feel free to click through this product slider and have a look at our videoscope range. Discover high quality endoscopes made in Germany!
VUMAN E3/E3+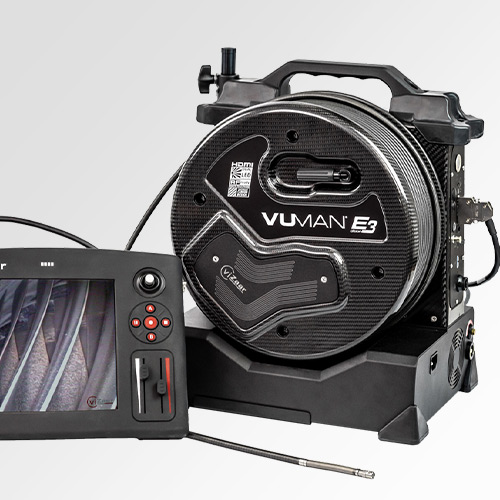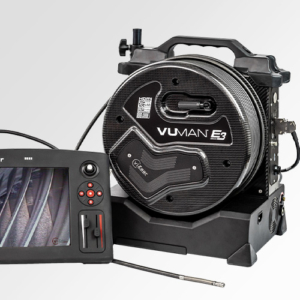 Diameters starting at 6.1 mm, probe lengths up to 30 m, spring-loaded probes, articulating and endlessly rotating camera heads – one videoscope for any kind of inspection requirements. Benefit from the modular design of the VUMAN E3/E3+ with 18 interchangeable standard probes. Our patented Remote Focus technology and interchangeable optic adapters provide an always sharp and clear inspection image which is always optimally illuminated thanks to the VUMAN's Dual-LED-illumination with boost function. Discover more features of the VUMAN E3/E3+:
VUMAN Videoscope
VUCAM Series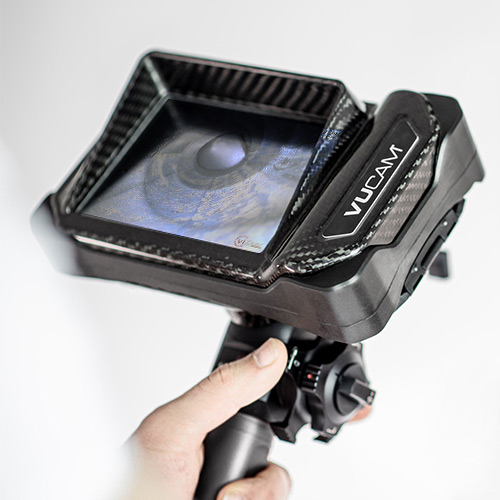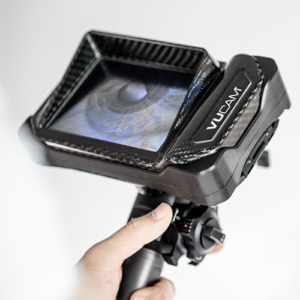 Especially when maneuvering through narrow tube turns, you will love the videoscopes of the VUCAM series! Starting at 4.0 mm diameter and standard lengths up to 6.6 m, we offer you handheld videoscopes in different variants and with optional optic adapters that allow you to change direction and field of view, as well as focal range. Using the VUCAM D model, you are even able to work with different probes that are interchangeable, which allows for even more flexibility during your remote visual inspection. More about our portable video endoscopes:
VUCAM videoscope series
VUFLEX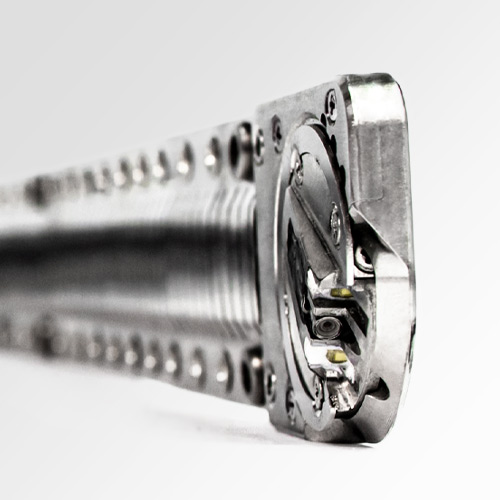 The VUFLEX is our special videoscope for heat exchangers and steam generators. This sword camera is standard only 2.4 mm thin and it is a very robust yet bendable stainless steel construction. It is vertically completely stable and horizontally extremely flexible. Due to this construction, the VUFLEX can easily be maneuvered via a manipulator. Every VUFLEX model comes with two high-power LEDs. Optionally, the videoscope can be equipped with a tiltable camera head and additional FOSAR tools. Learn more about our sword camera videoscope:
VUFLEX special videoscope
UVin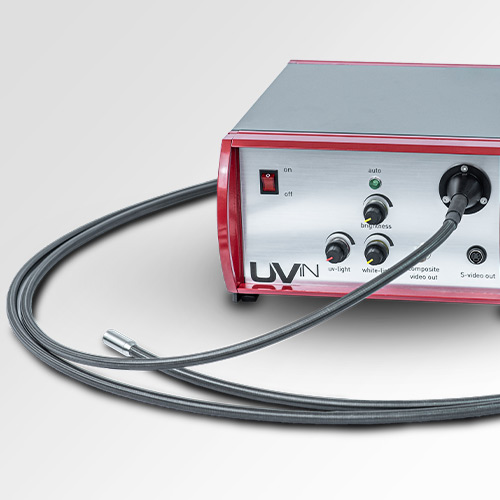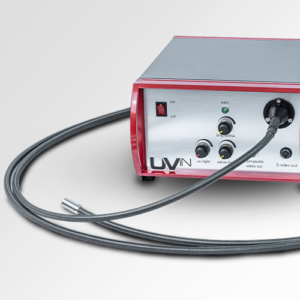 Unique inspection experience with the UV endoscope UVin. High-performance, standard 365 nm UV-LEDs excite fluorescent agents and make them visible. Via dye penetrant testing you perform especially revealing surface crack testing with the UVin. During magnetic particle testing, too, the UVin makes small material defects and indications visible. White light and UV LED are separately controllable, making it easier to distinguish real flaws from spots that just appear to be indications due to the lighting. Find out more about our UV videoscope:
UVin UV endoscope
iPLORE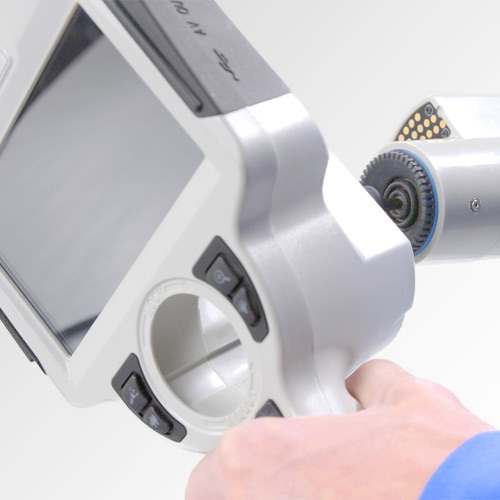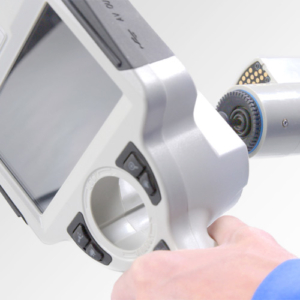 The iPLORE video borescope is a cost-efficient and flexible handheld videoscope. The video probes are interchangeable and available from Ø 2.4 mm – 8.4 mm and in work lengths between 1.5 and 6.0 m. Additionally, we offer IR and UV probes for the iPLORE videoscope for an even wider scope of application. So in addition to classic visual testing, the iPLORE allows you to use this video endoscope for cleanliness testing or even people search. If you are interested in this versatile portable videoscope, find out more by clicking on this button:
iPLORE videoscope
VISIO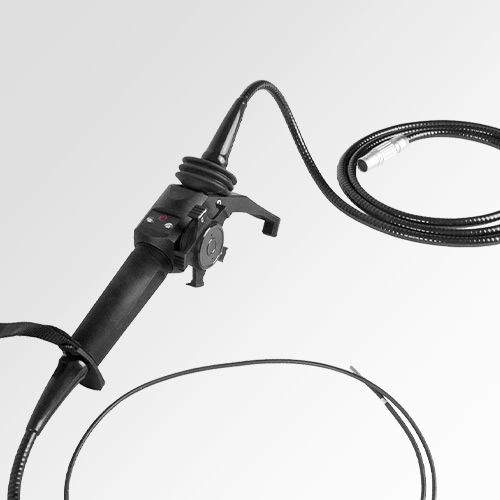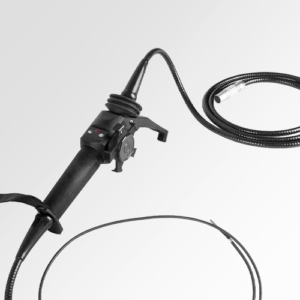 The VISIO videoscope system includes a desktop solution, interchangeable video probes and the VISIO Doc multimedia case. The VISIO system is designed for both portable and stationary use. Different probe diameters and work lengths offer flexibility and variety. Take a look at your recordings on an external monitor or use the display integrated in the multimedia case. VISIO probes can be articulated and used with additional optic adapters. For more information about this video endoscope system, please refer to the product page:
VISIO videoscope system
Videoscopes and Industrial Video Endoscopy
The medical sector is not the only field in which video endoscopy plays a major role. In the industrial sector, many optical inspections are carried out with the help of videoscopes and borescopes. In the course of a visual inspection, they are used to perform various safety and quality assuring cavity inspections that cannot be done with the naked eye or larger cameras. One of the most important features of video borescopes is that they are available in a variety of small working diameters and lengths, so that cavities of different lengths and with different opening diameters can be inspected.
Industrial Videoscopy at one Glance
A Wide Range of Video Endoscopes
viZaar offers a large selection of video borescopes for every kind of application. Our thinnest videoscope, which was especially designed for the inspection of steam generators, is the VUFLEX with a width of only 2.4 mm. Thanks to its interchangeable probe concept, the VUMAN E3/E3+ videoscope is available with probe lengths from 5 m to 30 m and diameters between 6.1 mm and 12.7 mm. This way, you always have the most suitable system for your application at hand. If you need a portable device that offers you maximum mobility, the portable video endoscopes of our VUCAM series are the best choice. With a weight of only about 1.5 kg and probe lengths up to 6.6 m, you can work mobile while still having a sufficient probe range. With additional videoscope optic adapters you are able to change the direction of view, field of view and depth of field of your video endoscopes. Optimize your videoscope for your individual application!
We also offer special endoscopes for crack testing with fluorescent media such as the UVin.
viZaar's Industrial Videoscopes and Custom Solutions
In addition to our serial products, we always offer you the possibility to develop special solutions for your specific application. viZaar has many years of experience in the development of customized inspection solutions. If you need such a custom made videoscope system, don't hesitate to contact us! We will be pleased to advise you. Together, we can work on the perfect solution for your particular application!
Industrial Videoscopes in Action
With our video endoscopes for the visual inspection of industrial plants and components you are guaranteed a reliable inspection system for the successful completion of your inspection and documentation. No matter if you need a mobile, portable system or a complex videoscopy system with a long range – in our videoscope portfolio, you will definitely find a suitable camera solution for your industrial endoscopy. We even offer extremely thin video borescopes for tube bundle and tier rod inspections in steam generators and heat exchangers.
In the following sectors, videoscopes are commonly used for remote visual testing:
Nuclear industry
Pharmaceutical industry
Construction
Offshore
Security sector
Power generation
Marine
Turbines and generators
More information to our current video endoscope portfolio can be found in our product catalogue. If you think you cannot find a suitable solution, please get in touch with us and benefit from our long years of experience in developing and manufacturing special videoscopy solutions.
Do you need help with your remote visual inspection or the choice of the most suitable videoscope? Contact us! Our viZaar NDT-Team will be happy to help and advise you. Together, we will find the right videoscope system or inspection service for you!
For videoscope and inspection system consultation, reach out to us via phone: +49 7432 98375-0 , e-mail: info@vizaar.com or by using our contact form.
Decision making is not always easy. Especially not when making a long-term decision such as buying an inspection system. That's why we have listed a few frequently asked questions about video endoscopes below. If there is anything else you need to know, feel free to contact us!
What is a videoscope?
Industrial videoscopes, also called video endoscopes or video borescopes, are flexible inspection camera tools with different diameters and work lengths. In the tip of the videoscope probe is a small image sensor covered by a camera lens. Videoscopes are used for non-destructive testing of narrow environments such as pipes and tubes, but also for non-destructive testing of engines, steam generators and different kinds of turbines.
What is an industrial videoscope used for?
Industrial videoscopes are inspection cameras with a flexible probe. viZaar videoscopes are available in lengths up to 30 m and help with remote visual inspection of areas and applications that could otherwise not be inspected.
How do videoscopes work?
Videoscopes usually consist of a control unit, a probe and a camera head. Some videoscopes such as the VUMAN or VUCAM are articulatable, e.g. via air pressure or mechanical tip articulation. An optical system connects the videoscope lens with the control unit and the image can be displayed on a screen. Most video endoscopes come with an integrated display, but sometimes it is necessary to connect the videoscope to an external monitor. Depending on the industrial videoscope you are using, it is possible to record and take pictures and to also edit and comment to them.
Where is videoscopy used?
Industrial videoscopy is practiced in many industrial fields. Non-destructive testing with videoscopes e.g. takes place in the automotive and automobile sector, in aviation, in gas and oil industries, foundry industries, power plants, manufacturing plants, aviation and aircraft, defense and safety engineering and many more.
Can I rent a videoscope?
Yes, there are companies that rent industrial videoscopes. viZaar is one of them. If you don't want to or cannot afford to buy an own videoscope camera, renting one is a very cost-efficient solution. Find out more about rentable videoscopes.
What kind of videoscopes are there?
In general, you can distinguish between large videoscope systems for long range inspections, such as the VUMAN, portable handheld videoscopes, e.g. VUCAM, and stationary video endoscope solutions. Depending on the application and inspection requirements, you need different video borescopes. In such cases, videoscopes with interchangeable probes are a great solution for efficient and flexible visual inspections.