VUDESK – Increase your productivity and ergonomics while reducing the risk of damage to work pieces and tools.
When testing serial components, it is not uncommon for unintentional collisions with the lens system, which can sometimes lead to production downtimes. In order to prevent irreparable damage to your endoscope from the start, viZaar has developed the VUDESK test station with integrated test fixture. Arrange your test station from the start according to your particular production process. Of course, we will also help you with later modifications and extensions.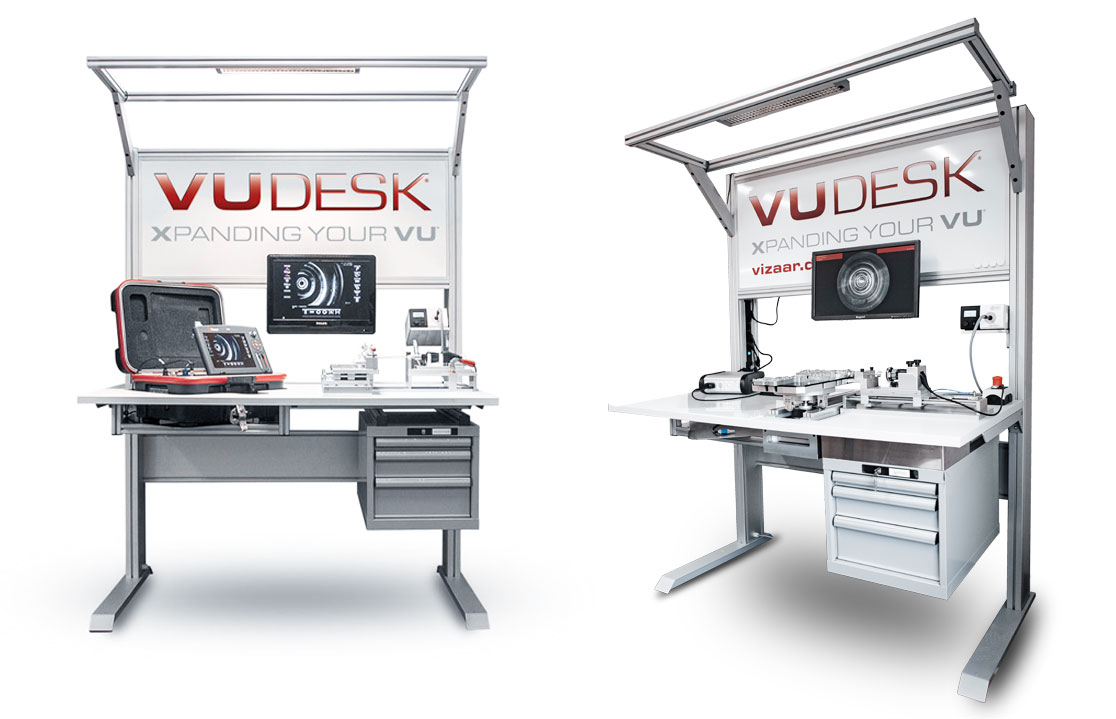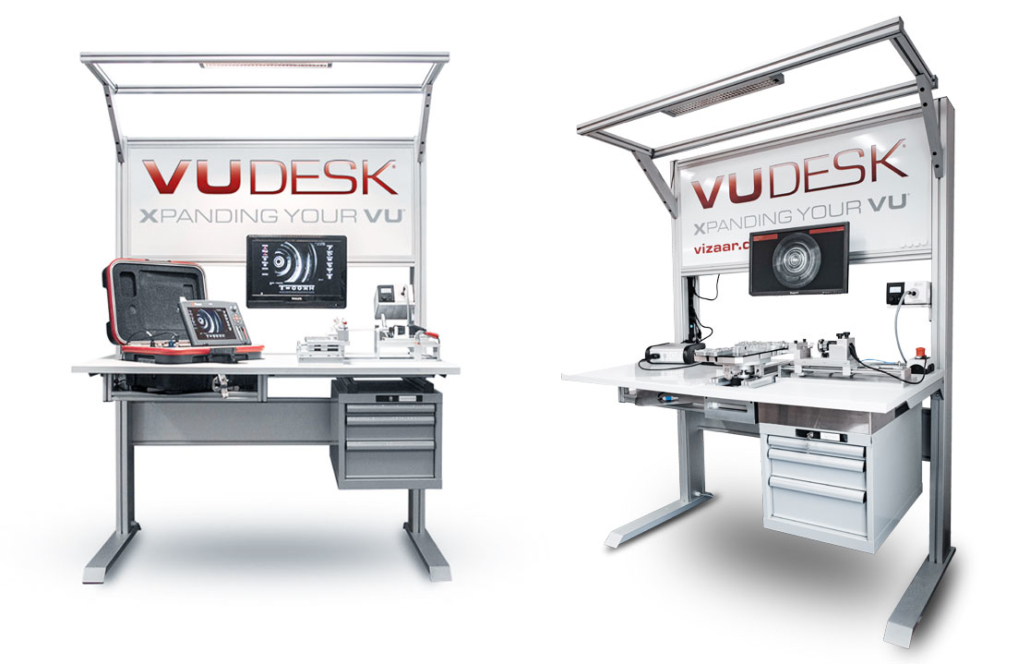 1
Frame for various mobile support and auxiliary equipment
2
Mount an external monitor for optimal view on the test image
3
Exact fit for the MATRIX E3 documentation unit directly integrated in the work bench
4
Optimize individual test sequences thanks to the integrated changing device
5
Optional extensions for tool storage
6
Optional white board for notes
7
Optimal documentation with VUVISION / VUVISION +
8
Light up the dark – with our powerful LED light sources!
9
Increase productivity by locking the inspection position and generate reproducible inspection results!
10
Design the workbench to your individual inspection purpose
11
Ergonomic design – continuously adjustable height
One Glance at the VUDESK Test Station
Increase Productivity and Safety
The test device integrated in the vuDESK will help you increase the efficiency of your production and to ensure the quality and safety of your products.
The test object is simply inserted, then, test position and test depth are firmly locked. The test object is simply inserted; test position and test depth are then firmly locked. Damaging contacts with the test object are effectively and permanently avoided, any disturbance of your test processes is thus prevented from the start. In addition, standardized test procedures allow faster inspections. Develop safe production processes and reproducible inspection results according to your own ideas!
Individually Configurable and Modifiable
Configure the test station with integrated test device optimized to your individual inspection needs and create your own personal test station. Add illumination, monitor mountings, a clip board or cable ducts and choose between different drawer systems for tool storage. You're not bound to one single solution – we will always help you with later modifications!
Always Keep Track of your Testing Processes
Working with the VUDESK allows you to always keep an overview of your test device, test objects and the entire work bench. The vuDESK test station puts you in the focus: All working areas are easily accessible and ergonomically designed. The working height of the test station is infinitely adjustable. Move the test device to the ideal position for you.
Optimized Testing Processes
The test fixture has an integrated changing device which ensures best comfort. Save time and optimize your test procedures with the changing device and exchange your endoscopes in no time.
For the ideal positioning of the MATRIX E3 documentation unit, the work surface of the VUDESK test station has an exact recess with a depression. Combine your test fixture with the MATRIX E3 and benefit from the many proven software features that allow you to precisely document your inspection and edit digital images and videos.
Working with the VUDESK test station with integrated test fixture ensures quality and guarantees fast and reliable testing processes.
The VUDESK is especially useful in the following situations:
When an individually adjustable and configurable work place is needed
As all-in-one solution for the testing of serial components and parts with high demands on the guidance of endoscope or camera
In production lines, e. g. in the automotive industry
Do you need help with your remote visual inspection? Or are you perhaps looking for an inspection system, but don't know which one is most suitable for your application? Contact us! Together, we will find the right solution or service for you!
Reach out to us via phone: +49 7432 98375-0 , e-mail: info@vizaar.com or by using our contact form.