The VISIO videoscope system – Our economical desktop solution for VISIO videoscopes for remote visual inspection
The VISIO system is a videoscope system for image presentation, documentation and further processing with our documentation unit MATRIX and the video endoscope system VUMAN.
Visualize your inspection work in real time. Process, analyse and save your inspection results with the VISIO videoscope system.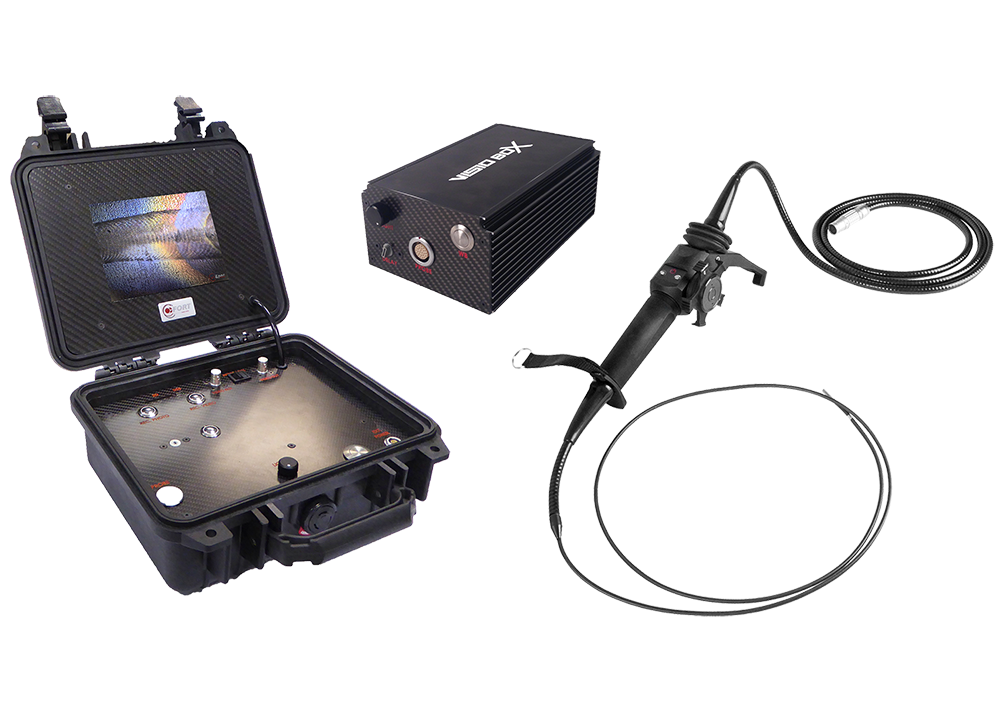 1
VISIO DOC – the multimedia case as all-in-one solution
2
VISIO BOX – economical desktop solution
3
VISIO P2 interchangeable video probes with 3.7 to 6mm diameter
VISIO DOC – The multimedia case
The VISIO DOC is a documentation unit for our exchangeable VISIO videoscope probes. Due to the integrated screen, the VISIO DOC is an autonomous inspection unit that is easy to transport thanks to its construction in a practical case. To ensure even more mobility, the VISIO DOC can also be used in battery mode for 1.5 – 2 hours. Visualize and document your inspection, analyse the results and save the documentation of your inspection on an SD card.
VISIO BOX – The economical high-end desktop solution
The VISIO BOX is the ultimate desktop solution for your visual inspection. Connect one of your VISIO interchangeable probes and present your inspection results with high-resolution images on a PC / laptop, a monitor or connect the desktop solution to our MATRIX E3 or VUMAN E3/E3+ videoscope system for further processing. In order to offer a handling as simple as possible, there are only the most necessary buttons and connections on the VISIO BOX. Connecting the VISIO P2 video probes is done easily and fast!
VISIO P2 – interchangeable video probes
The VISIO P2 probes are interchangeable video probes for remote visual inspection. The four-layer tungsten mesh makes the VISIO P2 probes very robust, flexible and easy to handle.
Connect the VISIO probes to the VISIO DOC and immediately start your inspection, analysis and documentation. You can also connect the P2 probes to the desktop solution VISIO BOX in combination with an additional screen. Other than that, you can also connect the P2 probes to the BOX system and connect it for further processing to the VUMAN E3/E3+ or MATRIX E3.
The P2 probes are available in 3.7 mm and 6 mm diameter and in lengths up to 6.6 m. Furthermore, they have articulating camera heads and optional optical adapters.
More information about the VISIO videoscope system
You want to learn more about this all-in-one videoscope system for remote visual inspection? Please refer to the brochure below. If you need advice, feel free to contact us! viZaar is expert in the field of industrial endoscopy and we are more than happy to help you find the right videoscope system for your application.
You are interested in the VISIO videoscope system? Or are you still wondering which system would be the best for your special application? Don't hesitate to contact us! We will gladly help you find the right solution for your remote visual inspection!
Reach out to us via phone: +49 7432 98375-0 , e-mail: info@vizaar.com or by using our contact form.