To help you meet every inspection challenge, we offer you a wide range of optic adapters for our viZaar videoscopes. Consequently, you no longer necessarily need to purchase several endoscopes.  Use one and the same videoscope for different applications and inspections.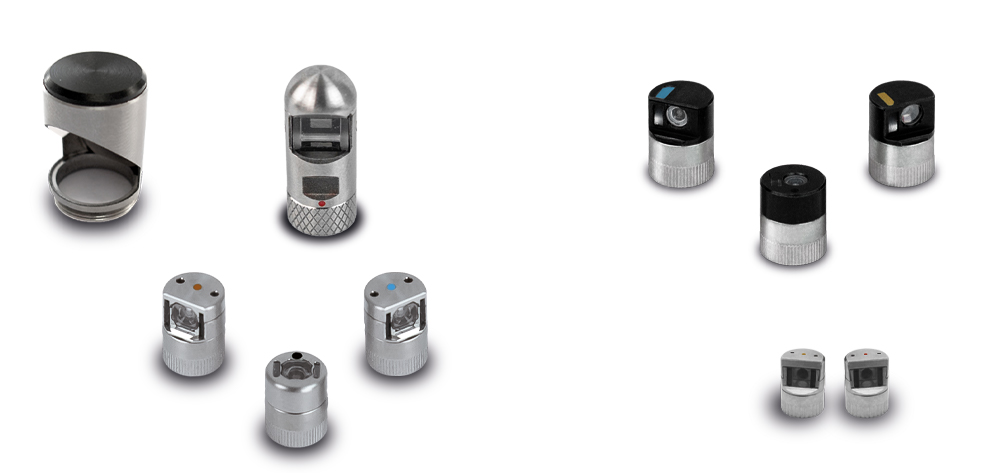 1
VUMAN Revolver 12.7 mm side view adapter
2
VUMAN 8.4 mm side view adapter
3
VUMAN 6.1 mm optic adapter – incredible sharp images starting at 2 mm distance to the test object
4
6 mm optic adapters for VUCAM XO/XO+ and VISIO probes
5
4 mm VUCAM XF/XF+ side view adapters with different focus range
We offer interchangeable optic adapters for the following video endoscope systems:
Wide range of optic adapters
When we developed the VUMAN endoscope system, we already knew that we wanted to also offer optic adapters for the different interchangeable video probes. In order to meet the difficult and demanding test environments in which the VUMAN is used, we have developed a variety of optic adapters with straight and side view as well as different focus ranges.
Use the Revolver 12.7 with side view optic and 360° rotation for optimized testing of inner tube walls and orbital weld seams. When it comes to the 6.1 mm VUMAN probe you even have the choice between 45° and 120° FOV and different focus ranges, starting at 2 mm distance to the test object to infinity.
Optic adapters for VUCAM systems
The portable videoendoscope series VUCAM was designed for flexible and mobile working. To reduce the necessary equipment to a minimum, we also developed three different optical adapters for the VUCAM XO/XO+. There is one straight viewing adapter with 120° wide-angle and there are two side viewing adapters with 120° FOV and 45° FOV. The 120° side view is for close focus at 3 – 120 mm. The 45° side view, on the other hand, is a far focus optic with a focus range from 12 mm to infinity.
Even for the only 4 mm thin VUCAM XF we offer two interchangeable endoscope optics! Although they are both side view adapters with a field of view of 85°, they differ in focus range. The adapter with the red mark has a DOF of 1.5 – 18 mm, while the adapter with the brown mark has a DOF of 4 – 100 mm.
Interchangeable optics for VISIO probes
We also offer optic adapters for one of our VISIO video probes. Since this probe also has a diameter of 6 mm and is similar to the VUCAM probes, we have constructed the VUCAM XO/XO+ adapters in a way that they can be used for both inspection systems.
All of our optic adapters and other accessories
Please take a look at our videoscope catalogue to get an overview of our optic adapters and other endoscope accessories. For questions or inquiries feel free to contact us any time!
Do you need help with your remote visual inspection? Or are you perhaps looking for an inspection system, but don't know which one is most suitable for your application? Contact us! Together, we will find the right solution or service for you!
Reach out to us via phone: +49 7432 98375-0 , e-mail: info@vizaar.com or by using our contact form.