Remove foreign objects from your plants and components without the need to open them.
Since foreign object retrieval plays an important role in non-destructive testing, we offer not only inspection cameras, but also retrieval tools. Our specially compiled retrieval tool kits are a must-have for any successful foreign object retrieval. Combining our retrieval tools with any inspection camera is simple, since these tools are autarkic systems.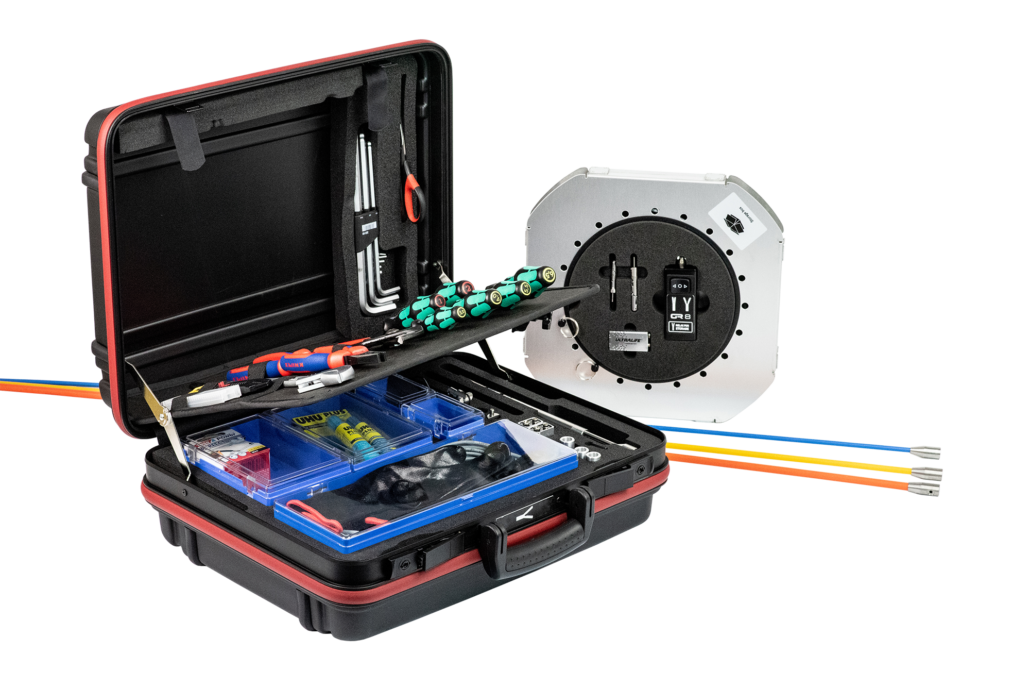 1
Practical transport case with enough space for your motorized and non-motorized retrieval tools
2
Wide range of non-motorized retrieval tools and normal tools
3
Motorized retrieval tool GR 16 – ideal for difficult FOSAR tasks
4
Motorized retrieval tool GR 8 – up to 30 m working length!
5
Push rods in three different sizes, easily interlocking
The importance of retrieval tools
Without the proper tools, the retrieval of foreign objects from a plant is almost impossible.  The more angled and distant the location of the object is, the more difficult the recovery gets. But not removing foreign objects from applications and components can have disastrous consequences. With the retrieval tool kits from viZaar you are guaranteed to be prepared to successfully retrieve foreign objects that are difficult to access.  The use of our retrieval tool kits can help to avoid hours of production downtime, save high costs and above all prevent dangerous situations.
Non-motorized retrieval tools
With our wide range of non-motorized retrieval tools in our retrieval tool kits, you are guaranteed to be prepared for any foreign object retrieval task.
These tools include:
stainless steel wire snare,
hook tools,
small, medium and large retrieval magnets
Motorized retrieval tools
The range of tools used for the recovery of foreign parts is gigantic. Sometimes the conventional equipment with snares and hooks is not enough. In such cases, motorized retrieval tools are required to grab the foreign object and hold it until it is removed from the system. Click here to find out more about our current motorized retrieval tools.
The proper retrieval tool kit for every application
Always be well equipped for your FOSAR task with our retrieval tool kits. However, since not everyone has the most complex plants and applications in which retrieving objects is the most difficult task, we offer three different kinds of retrieval tool kits, depending on your needs!
viZaar retrieval tool kits
Retrieval tool kit START

Stainless steel wire snare

Retrieval magnets

Retrieval hook

Angle adapter

LED Flashlight

Tool set

Accessory set

Glass fiber push rods

Operating instructions
Retrieval too kit STANDARD

Motorized retrieval tool GR 8

Stainless steel wire snare

Retrieval magnets

Retrieval hook

Angle adapter

LED Flashlight

Tool set

Accessory set

Glass fiber push rods

Operating instructions

Retrieval tool kit PRO

Motorized retrieval tool GR 16

Motorized retrieval tool GR 8

Stainless steel wire snare

Retrieval magnets

Retrieval hook

Angle adapter

LED Flashlight

Tool set

Accessory set

Glass fiber push rods

Operating instructions

Find out more about our range of retrieval tools and our retrieval tool kits: