MATRIX E3 – The core of viZaar's inspection camera line
The MATRIX E3 is our documentation system for camera operation, documentation and analysis of your remote visual inspection. The MATRIX system offers all the features needed for optimal test documentation. Convince yourself of our all-in-one system for visual inspection.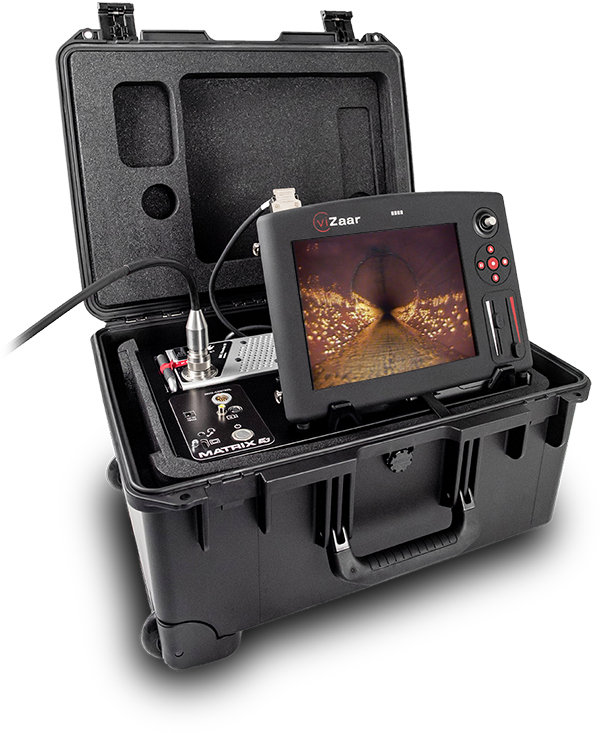 1
Connection for various inspection cameras
2
Trans reflective touchscreen with intuitive user interface
3
Simple camera operation via joystick
4
Continuous adjustment of illumination and focus
5
Comfortable transportation thanks to extendable handles and rubber wheels
Mobile and Independent as Never Before
In order to always offer our customers the most convenient inspection solutions, we are constantly working to improve our products. Therefore, we are pleased to present two new features of the MATRIX E3 documentation unit. To make the documentation platform even more mobile, we have placed it in a lighter case, which also has wheels and an extendable handle. You can now take the documentation system to your application by conveniently pulling it.
Furthermore, we have put a dock on top of the power supply unit which allows you to operate the MATRIX with an external, commercially available battery. Work independently from the mains power for up to five hours. Equip yourself with as many batteries as you need – the 36V Bosch® battery can be purchased anywhere.
The Documentation System for Tank and Pipe Inspections
The inspection cameras SNK 60x and Revolver 80 are our top cameras for remote visual inspection of tanks, vessels and bigger pipes. Together with the MATRIX E3 you receive an integrated solution for your remote visual inspection and documentation. The MATRIX E3 has been designed to get the most out of these two inspection cameras. Get access to a variety of functions such as the macro function, which other operating systems do not offer. Due to the integrated white balance and the also integrated 2D measurement system you get access to useful functions and brilliant color display.
Naturally, you can also connect inspection cameras of other manufacturers to the MATRIX documentation system.
Reliable Documentation and Backup
The MATRIX E3 documentation unit comes with the proven software features of our popular VUMAN video endoscope system for editing images and videos. For example, insert test charts, text fields with annotations, adjust the white balance and use the measuring function. Of course, you can also organize your images and videos in different folders, rename them, copy or delete them. Your inspection results are saved on the internal, fast SSD memory of the MATRIX E3. Alternatively, you can insert an external USB drive to save your results directly on it or to transfer them later.
Optimized Inspection Documentation in Different Industrial Sectors
With the MATRIX E3 you get the most integrated control and documentation unit for visual inspections. Complete your inspections accurately and quickly, with clear and comprehensible documentation.
Benefit from the MATRIX E3 in combination with our tank and pipe cameras especially in the following fields:
Inspections of tanks, vessels, boilers, manholes and chimneys
Inspections of large pipes and visual testing during pipeline construction
Inspections of buildings and bridges
In the pharmaceutical industry
In the nuclear sector
In the food industry
Testing of components below the waterline, such as cisterns or the bottoms of ships
If high modularity is required by using different camera systems
Do you need a reliable inspection and documentation system for your remote visual inspection? Then contact us! We are happy to give you advice concerning your visual inspection documentation!