The VUMAN E3 is the ultimate video endoscope for long range inspections. The latest generation of the VUMAN® video endoscope system combines latest technology with many years of expertise in the field of remote visual inspection. More than any other long range video borescope, the VUMAN® E3/E3+ has unique features that enable a wide variety of inspections.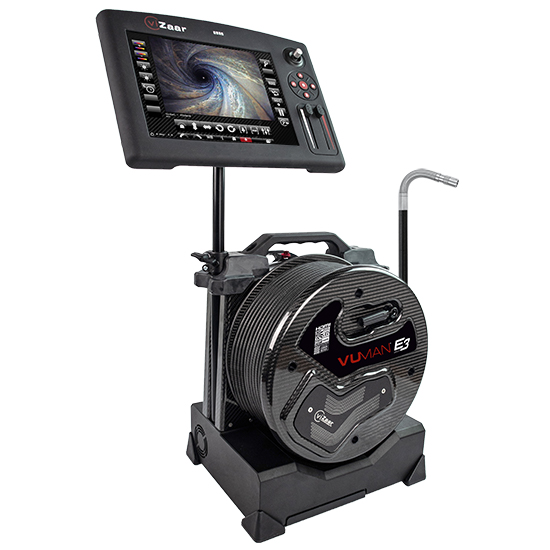 1
Trans-reflective touchscreen for clear images and simple operation – even with gloves
2
Remote focus for crystal clear image display from 3 mm to ∞
3
X-WAY articulation up to 160°
4
Interchangeable video probes up to 30 m length
5
Special probe deployment drum with handle for easy stowing
6
Integrated micro compressor for pneumatic articulation
7
Robust and light carbon fiber housing
Enhanced visibility with the VUSCREEN control unit
The VUSCREEN control unit of the VUMAN® E3 video endoscope is ergonomic and robust at the same time. For transport, simply attach the VUSCREEN to the housing on the back of the VUMAN®. There are various ways to position the control unit during an inspection. For example, you can attach it directly to the VUMAN®, either on top or on the back of it, carry it on the shoulder strap around your neck or simply put it down on a work bench or the ground. This way, you are no longer bound to stand directly next to the video endoscope when inspecting, but move around freely. Even lengthy inspections are pose problem thanks to the resistive 10.4" touchscreen TFT display with its LED backlight, True Color and native resolution of 1024 x 768 px.
Take full control with the X-WAY articulation
Our pneumatic X-WAY probe articulation allows a full 4-way articulation (up/down/left/right). Use the joystick to manually adjust direction and degree of the probe articulation. The probe articulation of this unique video borescope is driven by a computer-controlled micro compressor, making external compressed air sources unnecessary.
The concept of interchangeable video probes
Thanks to our V3 interchangeable probe concept and the wide range of short and long range video probes, the VUMAN® E3 combines several video endoscope systems in one. If you need to use several probes for one inspection, you can simply interchange them on site and switch between the probes needed. This smart concept saves you the cost of purchasing several video endoscopes. Furthermore, it makes cost-saving, modular repairs possible. Also, in case of contamination, you can simply remove the probe and replace it by a new one, instead of replacing the whole video borescope system.
Always optimally equipped with the V3 video probes
Select the interchangeable probes that are most suitable for your applications. With the video endoscope VUMAN® E3/E3+ it is very easy to interchange the video probes directly on site. Choose between different probe lengths and diameters, articulating or non-articulating. With articulating video probes up to 30 m length, the VUMAN® E3/E3+ is especially advantageous for applications that require a long endoscope range. On top of that, the VUMAN 12.7 video endoscope probe has a 360° endlessly rotationg camera hear which is perfect for orbital weald seem inspections! With viZaar's interachangeale probe system, you will only need one video endoscope system for any industrial endoscopy application!
In general, we are offering VUMAN® video probes with diameters from 6.1 mm to 12.7 mm and in lengths between 5 m and 30 m. Moreover, there are several optical adapters with which you can change direction of view (DOV) and field of view (FOV) of your videoscope camera. Additionally, it is possible to connect other external video endoscopes such as the VISIO system to our VUMAN®.
Articulating 6 mm probe with up to 30 m length
The VUMAN E3/E3+ is an exceptional industrial video endoscope! Our absolute highlight is the 6.1 mm thin, articulating video probe with up to 30 m working length. This extraordinary video probe enables you to inspect even very narrow applications with 30 m length and to still bend the camera head if necessary. Due to the integrated remote focus and the optionally available optic adapters, you will achieve an incredible image resolution even at only 2 mm distance to the test object.
The long video endoscope VUMAN® E3 is the best video endoscope of its kind. No matter which kind of application you need it for: this long range endoscope system will help you to quickly and efficiently accomplish the inspection task.
In the following fields, the VUMAN video borescope is especially convincing:
Nuclear industry
Pharmaceutical industry
Construction
Offshore
Landfill and gas collection
Security
Power generation
Marine / naval
Industrial turbines
Are you interested in our long range video borescope VUMAN® E3/E3+? Or do you have any questions regarding our camera systems for remote visual inspection? Contact us!
Reach out to us via phone: +49 7432 98375-0 , e-mail: info@vizaar.com or by using our contact form.