The cost-effective alternative for mobile video endoscopy
Are you looking for a portable videoscope that is as flexible and cost-effective as possible? Then have a look at the iPLORE+ videoscope with interchangeable video probes!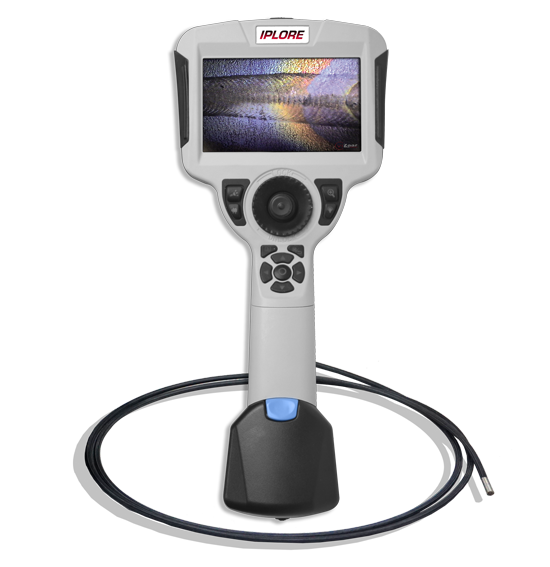 1
5" LCD display with a resolution of 1280 x 720 px
2
Direct access buttons for simple and quick operation
3
Precise and intuitive articulation control via joystick
4
Interchangeable video probes with plug-and-play system
5
Ultra-light – only 1.07 kg plus probe
6
Probe diameters starting at 2.4 mm and lengths up to 6 m
7
Up to 4 h battery operation
Interchangeable Video Probes
The Right Probe for Every Application
Depending on the application, a different video probe may be required. For that reason, we offer you the iPLORE videoscope with different interchangeable probes for lesser demanding inspections. The iPLORE+ probes are available in the following diameters:
2.4 mm | 3.9 mm | 6.4 mm | 8.4 mm
and the following lengths:
1.5 m | 2.0 m | 3.5 m | 6.0 m
Furthermore, there are also UV and IR probes available for the iPLORE+. Contact us for further information on the range of iPLORE+ probes or take a look at the product brochure:
Due to its light weight and more than 4 h battery operation, the iPLORE+ can be used without a problem for longer inspections. If you should fatigue anyways, you can also put the iPLORE videoscope on the special endoscope stand.
The especially robust transport case of the iPLORE+ offers lots of space for the base unit, the endoscope stand, two iPLORE+ probes, two batteries, the power supply, the SD cards, the manual as well as a cleaning kit. With the iPLORE+ you are ready for any inspection.
Sie benötigen persönliche Beratung? Dann rufen Sie uns an unter 07432 98375-0 oder nutzen Sie unser Kontaktformular!